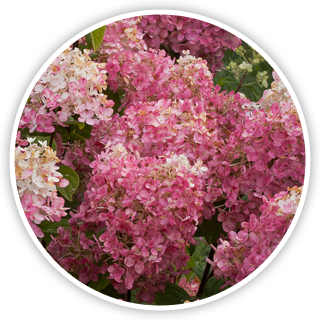 Fire Light® Hydrangea
If you're looking for an easy and beautiful way to decorate your front door for the Fall, look no further than the tried and true hydrangea. Most hydrangeas will work well for this project, but we especially love the warm red hues of Fire Light® as it changes colors in the summer. Fire Light® Hydrangea makes a great cut flower, fresh or dried, and can be used as a hedge, specimen, or incorporated into flower gardens and foundation plantings. It's exceptionally hardy, growing and flowering well even in chilly Zone 3. Try pairing it with Graceful Grasses® Vertigo® Pennisetum, Summer Wine® Physocarpus, and Graceful Grasses® Purple Fountain Grass Pennisetum in a tall planter for a stylish, dramatic effect.

• Floral foam or styrofoam
• Burlap or other stuffing material
• Box Cutter
• Tall, narrow planter

Choose Plants That Withstand The Elements
When considering what plants to use in a Fall arrangement, remember that while something may look beautiful in the garden, it may not fare that well in the elements as a cut flower. If you don't have anything that fits the bill this fall, why not plant some great options this year for your next year's decor! Check out our Seasonal Cut Flower Guide for more ideas and helpful plant lists.

Think Of Your Planter As A Large Vase
Your container needs to be large and sturdy enough to hold up in the outdoors, but the good news is that since you're not actually planting anything, you don't have to consider root space. This frees you up to focus on the dramatic effect of your arrangement, so go big! With our hydrangea arrangement, we found that a tall, slender planter was a great accent to our hydrangeas and grasses.