CREATE A
BACKYARD SANCTUARY
Give yourself and your loved ones a reason to spend more time together outdoors by designing a mindful, relaxing space for gathering. Here, a custom-built planter bed and surrounding seating encourages everyone to come and unwind, start a good summer read, share a story, or calm their minds through yoga. Below you'll find our "Sight, Scent, and Sound" Guide, designed to help you create an outdoor space that soothes the senses.

SIGHT
When designing your outdoor living space, develop a color palette and stick with it. This will help set your intention for the space, no matter what your color preferences. Think about it like you're re-decorating a room in your house. If the space is going to cater to rowdy entertaining, brighter colors might be the way to go. If your goal is mainly quietude and relaxation, choose a soothing color palette of muted tones that won't leap out at your senses.
COLOR PALETTE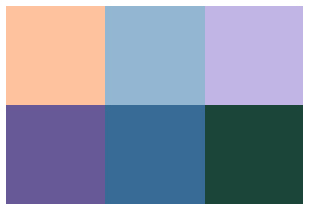 Our goal was to create a restful place where the whole family could unwind, read over a cup of tea, enjoy time together, or just do some yoga outdoors. With that in mind, we chose soothing tones of blue, lavender, green and peach for the decor, and tied it all together with plants that reflect the same palette.
SCENT
In the process of creating your outdoor relaxation space, scented plants can play a large role if you choose wisely. The soothing aroma of roses and lavender, for example, can have a calming effect and start helping you to unwind as soon as you step into your sanctuary. There are many scented plants to choose from. Follow this link to learn about some of the most well-loved varieties. Below you'll find a slideshow of the scented plants we chose for our outdoor space, as well as some fragrant favorites.
SOUND
Sound (or lack thereof) plays a huge role when it comes to creating a meditative space. When deciding on a location for your space, try to position it away from busy roads or other sources of unpleasant noise. If space is an issue and noise is unavoidable where you live, you can also use fencing, and even larger plants as sound barriers. We used North Pole Thuja. Aside from being an excellent evergreen landscape plant, it's columnar habit allowed us to plant them in a tight row, creating a living wall. Planter boxes with trellises can also have the same effect once plants really fill in. Fast growing vines like thunbergia really do the trick. Once you've neutralized your soundscape, you might want to introduce soothing sounds like flowing water. We loved this water feature.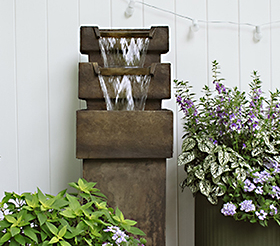 Even though you may have put in a ton of work into your new outdoor sanctuary, it can be easy to forget that it's out there waiting for you at the end of a long day. If it's beautiful outside, why not take some of the activities you're used to doing indoors out there? Weather permitting, you'll love reading, stretching, or just catching up with friends and family even more outside.
Exercise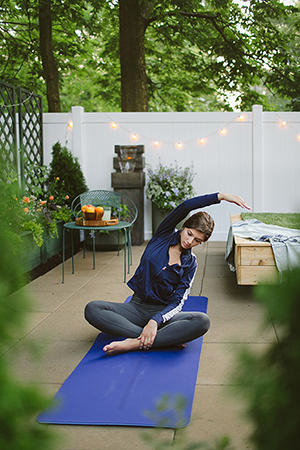 With fresh air, sunshine, and the aroma of flowers as a backdrop, this is a perfect place to bring out your yoga mat and take time to get centered. If yoga and exercise are part of your day-to-day, think about how your outdoor space can be more accommodating to your routine. Consider designating a specific portion of your space for these activities and make it that much easier to get into the flow.
Games & Activities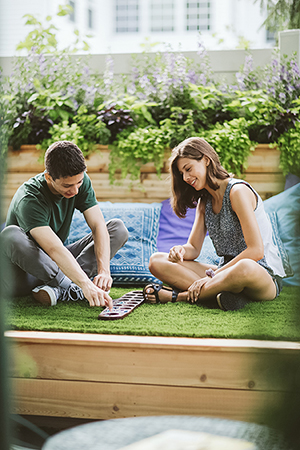 Let's face it, we all need a break from our screens sometimes. This is a perfect chance to break some habits, and get into some new ones with the whole family. Kids are notorious phone junkies, so providing them with some outdoor alternatives can enable them to put down those devices, pick up a book from time to time, or even play an old fashioned board game! Consider adding some outdoor storage to your space to house games, books, even art supplies for easy access.
Outdoor Lounge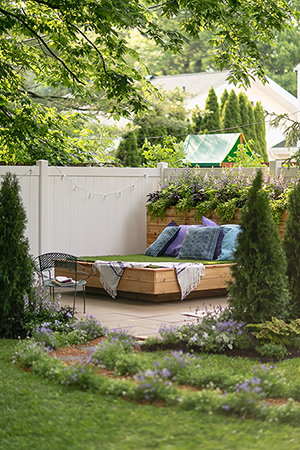 One surefire way to guarantee that your new outdoor space will be the new favorite hang is to make it as comfortable as possible. Getting comfortable outdoor furniture is an easy place to start. If you want to get a little more advanced, try what we tried and build an outdoor daybed planter for maximum lounge points. You can find a DIY tutorial to build your own daybed planter here. The planter headboard really softens the look and feel, and helps to incorporate it into the greenery of the garden.