Everbearing Strawberry
This wonderful plant is both highly ornamental and a prolific producer of tasty fruit on ever-bearing plants. The semi-double red flowers are gorgeous in their own right. Planting this strawberry in a container will show off the fruit to best effect, but it can also be grown in gardens.
Maintenance
To keep your Berried Treasure looking its best, you may need to do some light cleaning of spent flowers. Keeping the soil evenly moist and using a regular fertilization program will produce the most prolific berry crop.
Uses
The strawberry has one thousand and one uses–from headlining in a classic syrup, jam, ice cream or shortcake, to mingling with more boozy ingredients in a daiquiri or a bourbon smash. Find some of our select strawberry recipes below!

Berried Treasure Red Strawberry Recipes

Strawberry Rhubarb Margarita
Yields About 8 Servings
Ingredients
6-10 rhubarb stems chopped
4 cups strawberries, washed and trimmed
1/2-1 cup cane sugar or agave syrup
1 cup lime juice
1 1/2 cups tequila
3/4 cup triple sec
Crushed ice
Coarse salt and lime wedges for salt rims (optional)
1. Using a sharp knife or peeler peel off rhubarb skins in thin strands and set aside for garnish.
Rub the rims of your glasses with lime wedges and dip in the salt to rim.
2. Place chopped rhubarb, 1/2 c lime juice and sweetener in a sauce pan. Cook on medium heat until the consistency of a chunky jam and set aside to cool.
3. Place cooled rhubarb mixture, strawberries, remaining lime juice, tequila and triple sec in a blender and blend until smooth. Add ice and water and blend to your preference. Pour into your prepared glasses and garnish with rhubarb twirls and enjoy!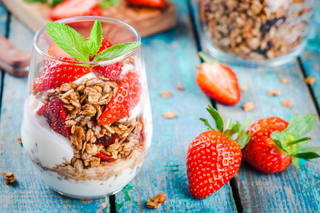 Strawberry Parfait
Yields About 2 Servings
Ingredients
1 1/2 cups granola
1 – 1/2 cups sliced strawberries
1 1/2 cups greek yogurt
1 Tablespoon agave or honey
A dash of lemon zest
1. Layer the granola, strawberries and yogurt in a bowl or glass reserving some fruit for the top.
2. Add final layer of strawberries, drizzle with honey or agave and zest a bit of lemon on top. Enjoy!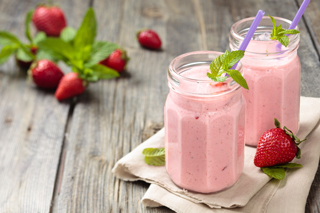 Strawberry Banana Smoothie
Yields 1 Serving
Ingredients
1 cup frozen strawberries
1 peeled frozen banana
1 cup milk of your choice
2 tablespoons greek yogurt
Honey or agave to taste
1. Place all the ingredients in a blender and blend until smooth. Add sweetener to taste and enjoy!