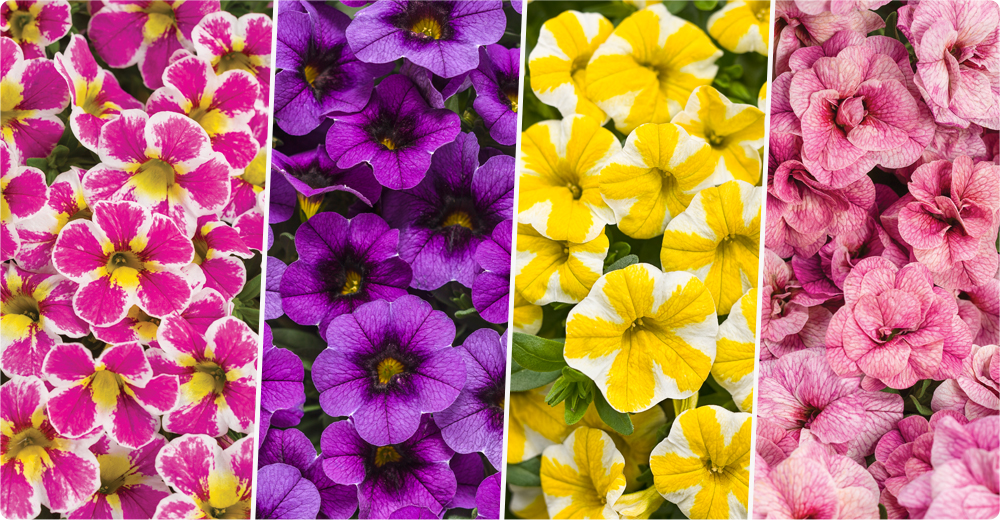 THE SUPERBELLS® COLLECTION
Enjoy Superbells from summer into fall as they add a beautiful burst of color to your full sun patio containers. Bred for their superb coloration, greater heat tolerance and disease resistance, Superbells will hold their color all season long.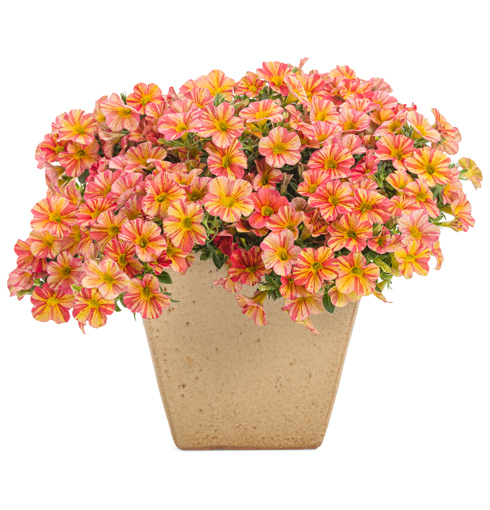 PRIMARY USE
Container Gardening

PART SUN TO SUN
HEIGHT: 6-12″
SPREAD: 12-24″
FLOWER SEASON
SPRING   SUMMER   FALL
SO MANY COLORS!
The Superbells® Collection offers a stunning range of long blooming, heat tolerant plants in nearly every color of the rainbow. These vibrant, low maintenance plants love the sun and don't require deadheading, making them a super fun and easy addition to any container planting! Find more info and care tips for growing Superbells below.
CARE TIPS
USE SOIL WITH GOOD DRAINAGE
Superbells® Calibrachoa do not like to have constantly damp soil. They will do well in the ground only with good drainage. For most gardeners containers are the best use for Calibrachoa. When planting Calibrachoa, you can give the plants a slight trim, using a sharp pair of scissors or pruning shears. This will increase branching and may help your plants look even fuller.
SUPERBELLS® THRIVE IN CONTAINERS
Calibrachoa are usually easiest to grow in containers. If the roots are kept too wet it can lead to root rot diseases. In containers, allow the top of the soil to dry before watering again. If your plant is wilting even though the soil is still damp you likely have a root rot problem.
SUPERBELLS® IN RAISED BEDS
Calibrachoa can be fantastic in-ground plants, but only if they are planted in well-drained soil. Raised beds would be a good choice for planting Calibrachoa in the landscape. In the ground they shouldn't need much additional water unless conditions are very dry. Proper watering is key to growing good Calibrachoa.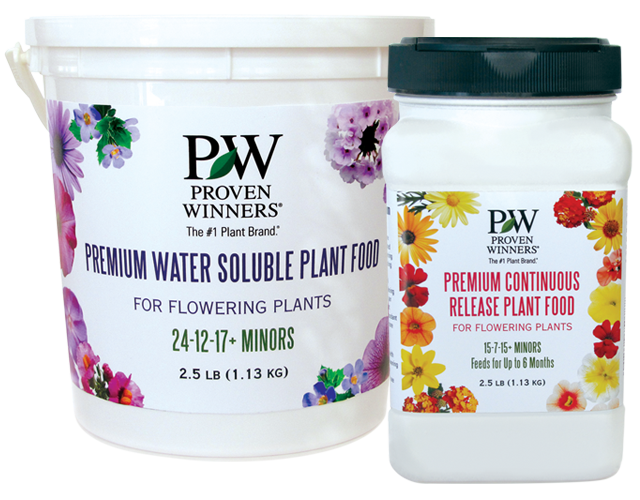 FERTILIZER
Superbells are low-maintenance plants and don't require deadheading. They will do best if fertilized on a regular basis. Calibrachoa can be sensitive to both high and low pH. If your plants have been growing for a while and then begin to look a bit tired and not so good there are several things to try. If the foliage is yellow there are two possible causes. If you haven't been fertilizing regularly they could simply be hungry and in need of fertilizer. Feed them using a well-balanced (look for something with an n-p-k ratio near 24-12-17) water soluble fertilizer. If you have been fertilizing regularly with a well-balanced fertilizer and the foliage is still turning yellow, it is probably because the pH range in your soil has gotten a bit high or low. The most common impact of this is that Iron can no longer be taken up by the plant, even if it is available in the soil.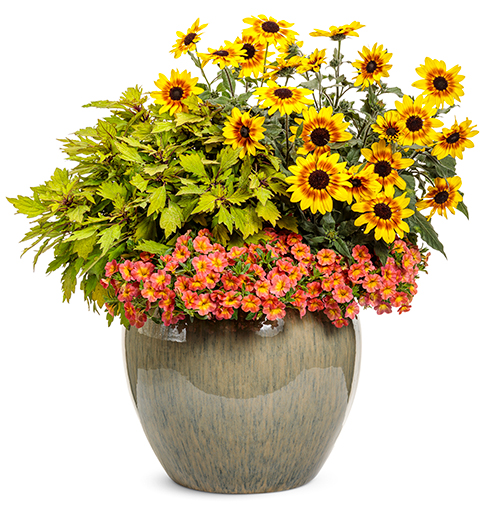 MARY JANE RECIPE
SUPERBELLS® Coral Sun Calibrachoa
SUNCREDIBLE® Saturn™ Helianthus
COLORBLAZE® Royale Pineapple Brandy™ Plectranthus
Differences in Superbells
Check out the features of the six different types of Superbells