The Best Slicing Tomato. Period. 
This indeterminate, slicer type tomato has been hailed as a breakthrough. It was developed to have true heirloom taste, with modern disease resistance and high yield of large fruit. It performs well in heat and humidity. It has a smooth, balanced flavor and is delicious in salads and sauces. This tomato will produce fruit for an extended period of time. Fruit matures in about 72 days.
Maintenance
Indeterminate tomatoes will grow quite large. You will need to use a tomato cage or staking of some sort to support the plants. They will need to be kept from getting excessively dry. Consistent watering and regular fertilization will be key to keeping your plant in full production mode. They can be grown in containers, a minimum of 12 inches in diameter is suggested, but larger is better. If grown in containers they will still need to be given support of a tomato cage or stake of some sort. These plants are quite disease resistant and with proper care should provide fruit throughout the season.
Uses
This is a garden tomato that will prolifically produce mid-sized tomatoes with truly fantastic taste. They grow quite large in the landscape, but when grown in a container they are more contained in size. They do need to be staked or caged to grow them successfully. This tomato will produce fruit for an extended period of time. If you are growing this plant in a container, a 14″ diameter (5 gallon volume) is the minimum necessary size. The ideal size size would be a 16″ to 20″ (7-10 gallon) container. Be sure to provide support by using a tomato cage or other structure in the container.

Garden Treasure Tomato Recipes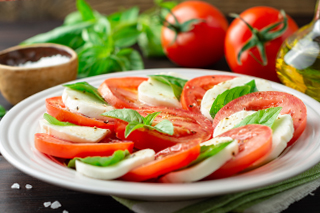 Caprese Salad
Ingredients
3-4 ripe tomatoes
16 oz (two large balls) mozzarella cheese
1/2 cup destemmed basil leaves
2-3 Tablespoons high quality olive oil
2 Tablespoons reduced balsamic vinegar (optional)
Sea salt and pepper to taste
1. Slice the tomatoes and mozzarella in 1/4-1/3 inch thick slices.
2. Layer the tomatoes, mozzarella and basil leaves on a platter in an alternating pattern. Drizzle with oil and vinegar and sprinkle with salt and pepper. Enjoy!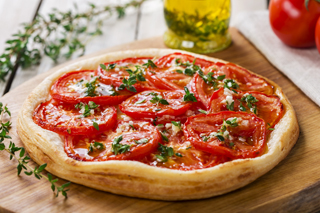 Goat Cheese & Tomato Tart
Ingredients
1 sheet puff pastry
2 ripe tomatoes sliced thinly
3 oz soft goat cheese
3 oz ricotta cheese
2 garlic cloves minced
1 tablespoon fresh thyme or oregano leaves
1 tablespoon olive oil
Sea salt and pepper to taste
1. Preheat the oven to 400°. Roll out pastry until the shorter side is 10". Using a 9" cake pan as a guide, cut a circle out of the pastry. Place the pastry on baking tray with parchment paper and set aside.
2. Place the ricotta, goat cheese, garlic and herbs in a bowl and mix thoroughly.
3. Spread the cheese mixture over the pastry then cover with tomato slices. Drizzle with olive oil and sprinkle with salt and pepper.
3. Bake for 20-25 minutes until pastry is golden brown. Transfer to a plate, slice and enjoy!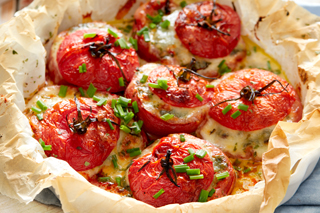 Spinach and Cheese Stuffed Tomatoes
Ingredients
2 cups shredded mozzarella
1/2 cup ricotta
1/2 cup grated parmesan
1 small yellow onion
1 tablespoon butter
1 bunch spinach
1 tablespoon dried Italian herbs mix
A pinch of red pepper flakes
Salt and pepper to taste
Chopped, fresh chives and basil to garnish
1. Preheat your oven to 350°. Slice the the top 1/2" off of the tomatoes and using as spoon, hollow out the tomatoes out and place in a lined, rimmed pan.
2. Steam the spinach until just cooked and chop roughly. Dice the onion and saute with the butter until translucent. In a bowl, combine onion, spinach, 1 cup mozzarella, other cheeses and seasoning and mix thoroughly.
3. Spoon the mixture into the tomatoes and pack lightly. Top with remaining mozzarella, place tomato tops back on and bake for 20-25 min. Sprinkle with fresh herbs and enjoy!