An Irresistible Cocktail Tomato
This compact, cherry-size tomato has been hailed as a breakthrough. It is perfectly sized for growing in a container on your patio. For its size, it produces tons of ripe tomatoes. Tomatoes present prominently. Juicy fruits have a tender skin and perfect sweet to acid balance, with a Brix value of about 9. The somewhat heart-shaped tomatos are fun and interesting and look especially cool when sliced in half, which shows off the heart-shape to best effect. The tomato shape helps this veggie be ornamental as well as yummy. These plants will produce tomatoes for an extended period of time and thrive in heat and humidity. Fruit ripens in about 65 to 72 days. The plant is semi-determinate. Support should not be needed.
Maintenance
Semi-determinate tomatoes do not grow as large as indeterminate tomatoes. They will need to be kept from getting excessively dry. Consistent watering and regular fertilization will be key to keeping your plant in full production mode. They can be grown in containers, a minimum of 10 inches in diameter is suggested. They should not need staking or a tomato cage, but support can be used if necessary. These plants have good disease resistance and with proper care should provide fruit throughout the season. Scout for tomato pests and treat the plants if necessary.
Uses
This is a container tomato that will prolifically produce cherry-sized tomatoes with great taste. The compact size works will in patio planters, window boxes and would be a fun hanging basket plant where it will cascade and allow for easy harvest. It should not need to be staked or caged to grow it successfully. This tomato will produce fruit for an extended period of time. If you are growing this plant in a container, a 12″ diameter (3 gallon volume) is the minimum necessary size. The ideal size would be a 14″ to 18″ (5-7 gallon) container.

Goodhearted Tomato Recipes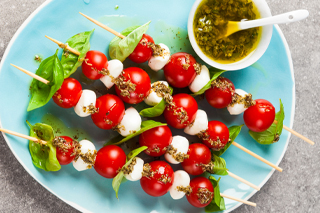 Tomato Mozzarella & Basil Skewers
Makes 4 Skewers
Ingredients
16 ripe tomatoes
8 oz mozzarella
1 cup pesto or balsamic vinegar
Check out our awesome lemony pesto recipe here!
Handfull of fresh basil
1. Make 8-12 small mozzarella balls. Skewer tomatoes, mozzarella, and basil leaves. Drizzle with pesto or balsamic vinegar. Enjoy!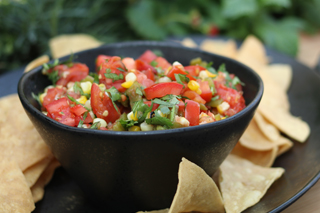 Fire Roasted Salsa
Yields About 3 Cups
Ingredients
6 ripe tomatoes
2 ears of corn
1 poblano pepper
1 small yellow onion
1-2 Fire Away® peppers or jalapeños
2 limes
A splash of apple cider vinegar
1/2 cup chopped cilantro
Salt to taste
1. Start up your grill. While the grill heats up prep the veggies. Cut the tomatoes in half, sprinkle each side with salt and set aside. Cut the onion in half leaving the skin on. Shuck the corn, boil for 3 minutes and set aside.
2. Once the grill is hot, brush all the veggies down with olive oil and grill for 10-15 min flipping them over halfway through. Grill the peppers for a bit longer than the rest letting them char on all sides.
3. Place grilled tomatoes and peppers in a bowl and cover with a lid or plastic wrap to steam. After a few minutes, the skins should be easy to peel. Peel the skins, deseed the peppers and dice.
4. Cut the corn off the cob and add to the tomatoes and peppers. Remove the skin from the onion, dice and add to the mix.
5. Add the vinegar, lime juice, cilantro and salt. Mix well and enjoy!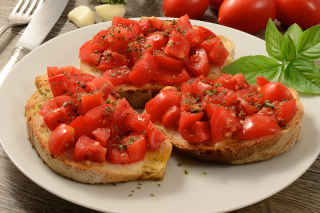 Bruschetta
Yields 6-8 Servings
Ingredients
1 baguette
3 cups of tomatoes quartered
1-2 garlic cloves minced
1/4 c fresh basil and oregano leaves finely chopped
1-2 tablespoons champagne vinegar
1/2 cup olive oil
Salt and pepper to taste
Reduced balsamic vinegar (optional)
1. Slice the baguette, brush slices with olive oil and baking on a baking tray until toasted.
2. Place the tomatoes, garlic, herbs, vinegar, remaining olive oil and salt and pepper in a bowl and mix until combined.
3. Top each bread slice with 1-2 tablespoons of the tomato mixture and drizzle with the balsamic vinegar if using. Enjoy!