Overwintering Guide
Materials
• 1 Tbs red pepper flakes
• 1 Tbs cayenne
• 1 head of garlic
• Dish soap
• Water
• Sieve or cheesecloth
• Spray bottle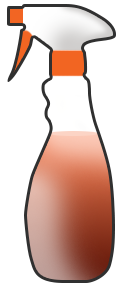 Instructions
1. Put red pepper, cayenne, garlic (peeled or unpeeled) and a couple tablespoons of water in a blender.
2. Blend until a paste is formed. Filter the paste through a sieve to remove chunks. Mix 2 tablespoons of the mixture with enough water to fill your spray bottle and freeze the remaining paste for future batches.
3. Add a couple of squirts of dish soap to the bottle, put the top on and shake to mix. Use as needed.
4. This spray can be used for indoor and outdoor plants. You may want to bring indoor plants outside to spray them.