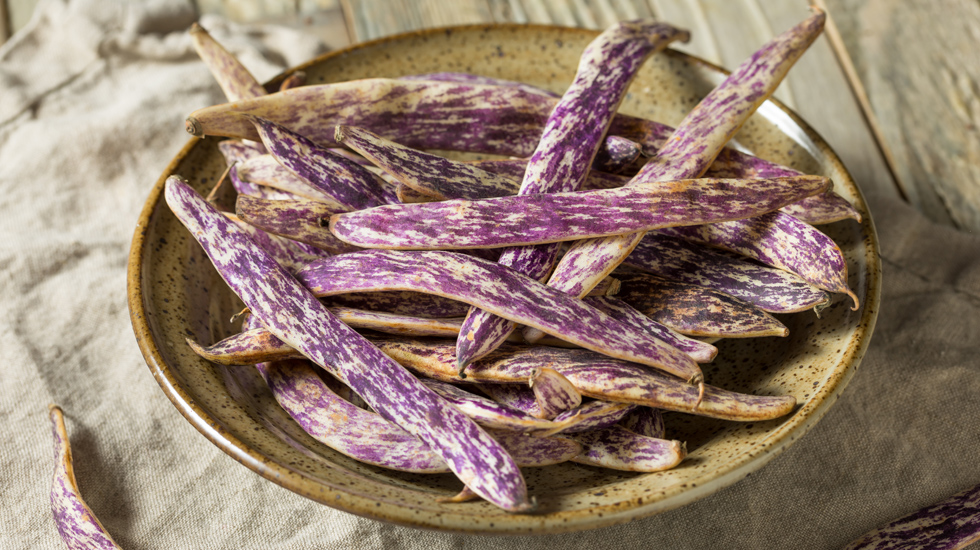 A Tasty Heirloom Bean That's Fun to Grow!
These bright purple streaked yellow bush beans are delightfully delicious. Pick the tender young, stringless pods to eat fresh or let them mature a little longer to use as shelled beans. The more you harvest, the higher the yield for this 24-30" tall heirloom variety. Like magic, the purple coloring disappears when cooked.
Uses
Dragon's Tongue bean pods can be eaten fresh like sugar snaps. The beans can also be dried for use in soups, salads, appetizers, and more.
• Growing Dragon's Tongue Beans From Seed •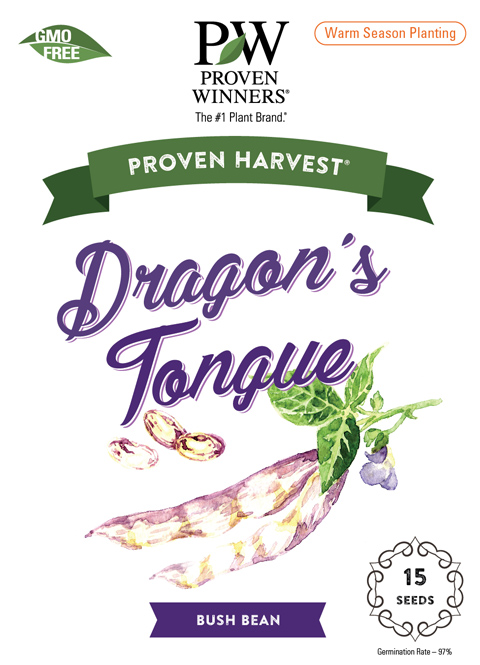 Dragon's Tongue Bean Recipes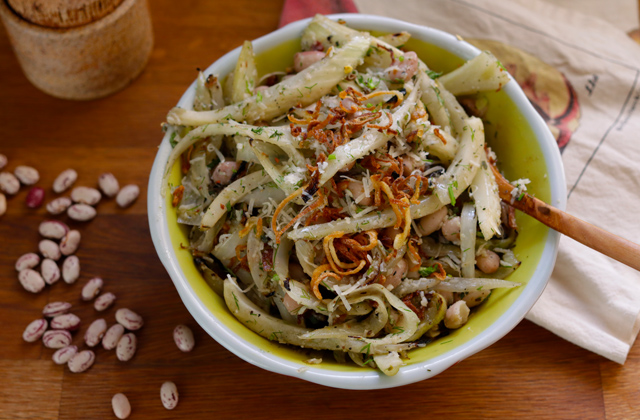 Smoky Fennel & Bean Salad with Fried Shallots
4-6 Servings
Ingredients
To prepare the beans:
1 cup dried dragon tongue beans, soaked overnight with 1 tsp salt
2 smashed cloves garlic
1 bay leaf
1/2 tsp salt
Fried shallots:
2 large shallots sliced thinly
1 cup olive oil
Click to Expand/Collapse
Salad ingredients:
1 medium yellow onion, cut into thin wedges
1 fennel bulb, cut into thin wedges
1 tsp dried oregano
1 tsp dried basil
zest and juice 1 lemon
1/4 cup fresh basil, thinly sliced
1/2 cup grated parmesan
1/21 tsp red pepper flakes
1 tsp sea salt
freshly ground black pepper
(Add 1 tsp smoked paprika if baking)
Directions
1. Drain and rinse the soaked beans. Place in a pan with 2 cups water, garlic cloves, bay leaf and a 1/2 tsp salt. Simmer on low until the beans are soft and creamy in texture. Drain and set aside.
2. While the beans are cooking, fry the shallots. Place a fine metal mesh strainer over a heat-proof bowl and set aside. Place the sliced shallots and olive oil in a small, deep pan and cook over high heat, stirring frequently, until the shallots are evenly golden brown. Carefully pour the oil and shallots into the strainer and then spread the shallots out on a paper towel to cool. Reserve shallot oil.
3. Before preparing the remaining ingredients, preheat your grill or oven (425°).
4. Place the onion, fennel, dried herbs, zest and salt & pepper in a mixing bowl (Add paprika if baking). Drizzle in 2 Tbsps of the shallot oil and toss until evenly coated. Place the mixture in a grill basket or on a baking sheet and cook until the edges of the fennel begin to crisp.
5. Return the fennel and onion to the mixing bowl and add the beans and shallots. Mix in the parmesan, fresh basil, red pepper flakes and salt & pepper. Drizzle in the remaining shallot oil and lemon juice and toss until combined.