An Award-Winning, Tough & Spicy Pepper
This is a hot and spicy pepper, but not so hot you'll need to call the fire department. Think jalapeño, but with a little more kick. First ripe fruit takes 65 to 72 days from transplant. The glossy foliage minimizes water loss and contributes to the low water needs of this plant. Fruit sets and matures quickly once ripe fruit begins to present.
Maintenance
Easy to care for. It loves heat and will thrive through the summer months. Fruit can be harvested until first frost.
Uses
This hot pepper works well in landscapes and containers. It may need trellising to maintain upright habit. Fruit transitions from green to orange to red, with multiple colors represented on the plant at the same time. Fruits can be harvested when they begin to show good color and are fully ripe when solid red. Taste is pleasing if picked before full maturity. If you are growing this plant in a container, a 12″ diameter (3 gallon volume) is the minimum necessary size. The ideal size would be a 14″ to 18″ (5-7 gallon) container.
• Growing Pepper From Seed •

Fire Away® Hot and Heavy Pepper Recipes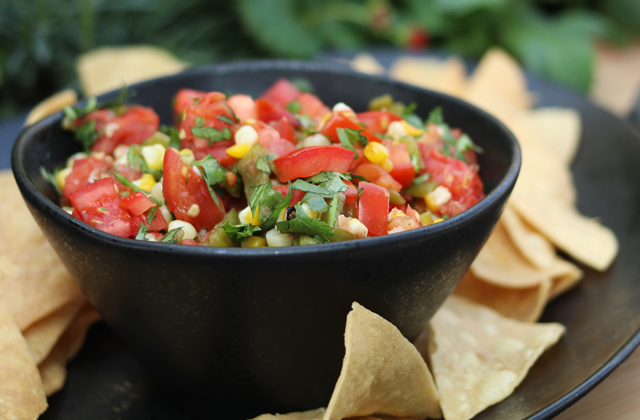 Fire Roasted Salsa
Yields About 3 Cups
Ingredients
6 ripe tomatoes
2 ears of corn
1 poblano pepper
1 small yellow onion
1-2 jalapeños
2 limes
A splash of apple cider vinegar
1/2 cup chopped cilantro
Salt to taste
Directions
Click to Expand/Collapse
1. Start up your grill. While the grill heats up prep the veggies. Cut the tomatoes in half, sprinkle each side with salt and set aside. Cut the onion in half leaving the skin on. Shuck the corn, boil for 3 minutes and set aside.
2. Once the grill is hot, brush all the veggies down with olive oil and grill for 10-15 min flipping them over halfway through. Grill the peppers for a bit longer than the rest letting them char on all sides.
3. Place grilled tomatoes and peppers in a bowl and cover with a lid or plastic wrap to steam. After a few minutes, the skins should be easy to peel. Peel the skins, deseed the peppers and dice.
4. Cut the corn off the cob and add to the tomatoes and peppers. Remove the skin from the onion, dice and add to the mix.
5. Add the vinegar, lime juice, cilantro and salt. Mix well and enjoy!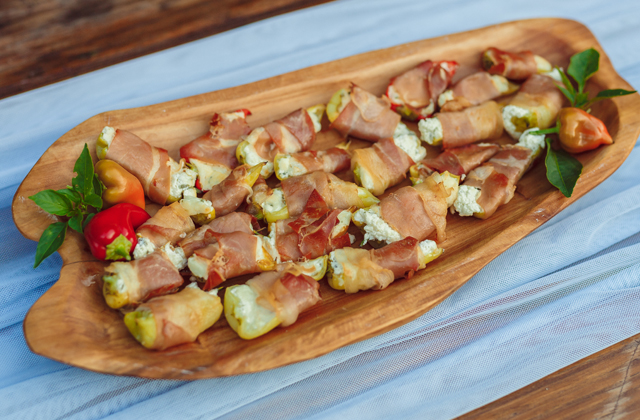 Fire Away Stuffed Peppers
Makes 15 Servings
Ingredients
15 Proven Winners Fire Away Hot & Heavy peppers
8 oz whipped cream cheese
2 tbs minced shallot
2 tbs minced chives
8 slices of prosciutto
Directions
Click to Expand/Collapse
1. Preheat the oven to 425. Cut the peppers in half. Seed and rib the peppers. If you like spicy peppers, do not rib.
2. Place the pepper halves on a baking sheet. In a small bowl, add cream cheese, shallot and chives and mix thoroughly. Fill each of the pepper halves with about 1 tsp of the cheese.
3. Cut the prosciutto strips in half. Wrap the peppers with a half slice of prosciutto.
4. Bake for 10-12 minutes.