You've invited the guests, manicured the lawn, and watered the flowers. The kids have made the decorations and planned the games. So what's left? Creating a patriotic menu to add to the celebration. Here are some delicious, colorful, and festive recipes that your guests will rave about.
Freedom Tart
Ingredients:
1 pre-made pie crust
Fresh berries (red raspberries, blackberries, and blueberries) Raspberry jam
Simple cheesecake filling:
6 oz. package of cream cheese, softened 1/2 cup sugar
2 large eggs
1/2 t. vanilla extract
Directions:
In medium bowl, with mixer at low speed, beat cream cheese and sugar until smooth, occasionally scraping bowl with rubber spatula. Add eggs and extract; beat just until combined. Pour into pie crust and bake at 350° for 20 minutes. Let cool completely. Arrange berries on top of the filling. Warm jam in a pan, thin if necessary. Brush jam over berries. Chill until serving.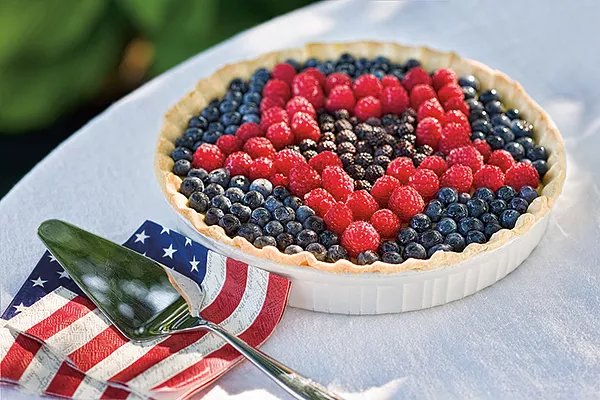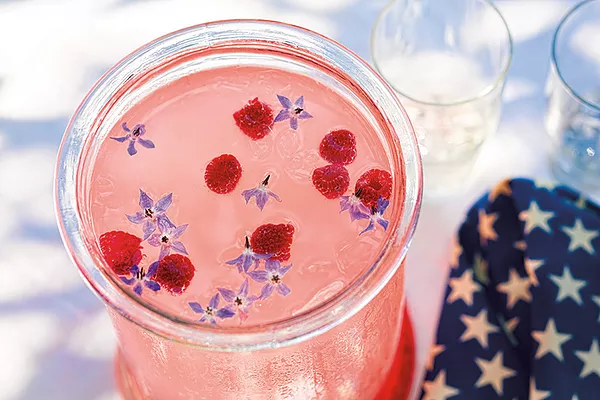 Patriot Punch
Ingredients:
2 cups red raspberries
12 lemons
11/2 cup sugar
1 to 2 dozen Borage flowers
Directions:
Juice lemons, set aside. Place 1 1/2 cups of the berries in a pan with 3/4 of a cup of water. Place over medium heat for about 10 minutes while mashing berries. Strain and return liquid to pan. Add lemon juice and sugar. Heat until sugar is dissolved. Alllow mixture to cool. Dillute with ice and water to taste. Float edible flowers and remaining berries on top. Makes 10-12 servings.
Star-Spangled Salad
Ingredients:
Baby spinach (or Arugula), washed
1 small seedless watermelon, cut into 1/2 – 1″ thick slices
1 bunch fresh basil, sliced into long strips
Crumbled feta cheese
Balsamic or reduced-fat balsamic vinegar
Olive oil
Freshly ground black pepper and salt
Directions:
Use a small star cookie cutter to punch out watermelon stars. Place 1/2 cup of balsamic in a shallow pan on low heat until significantly thickened. Mix balsamic with olive oil and add salt and pepper to taste. Combine all ingredients and drizzle dressing over top.