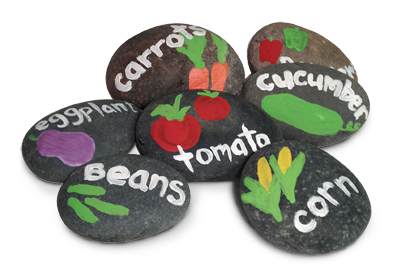 Painted Garden Markers
Looking for a fun way to involve the kids in your gardening activities? Here's a project you can do together that lets the little ones leave their mark on this year's vegetable garden.
Just take two parts adventure and mix it with one part art project and you have a lot more than colorful stone garden markers. You have proud artists and budding gardeners who have a "stake"
in this year's garden.
Part One: Adventure
First. gather the stones. Depending on where you live. you may be able to find these on a nature walk, along a beach, or on a hiking trail. If your time is limited or you don't have easy access to a natural area, you could visit a garden center to purchase small, flat landscape stones suitable for painting. Second, spend time with the children talking about what types of vegetables you want to plant this year and let them help you shop for seeds.
Part Two: Art Project
All you need are rocks, a selection of acrylic paints, small artist paint brushes, and some creativity. For smaller hands, a variety of colored permanent markers could do the trick as well.
Each rock can identify a specific vegetable in words, a drawing, or both. It is also a good idea to coat the rocks with a non-toxic all-purpose sealer when the paint is dry for extra weather resistance.
As the plants start to sprout. the adventure continues by allowing you to teach the children the tasks of watering, weeding, and harvesting the garden.