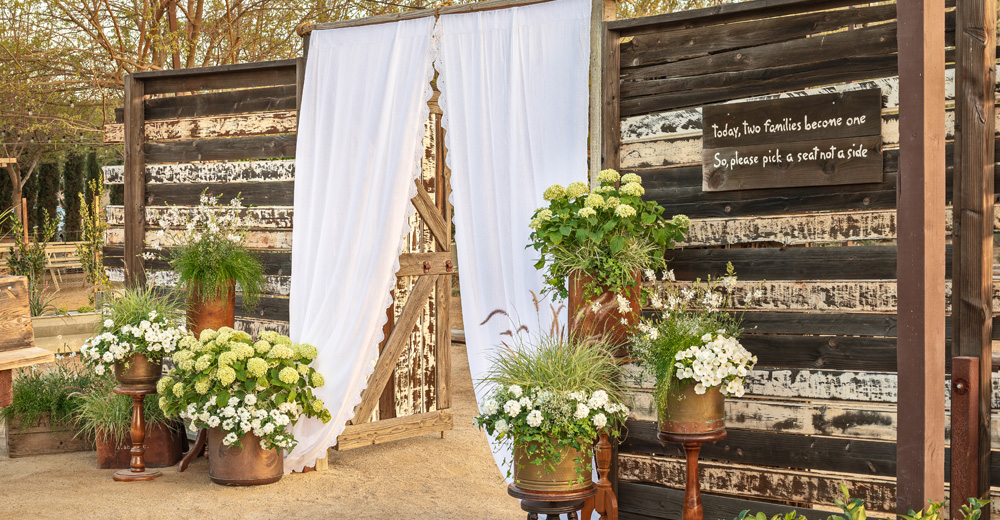 The Big Day
You and your partner have eclectic tastes, so show them off on your wedding day by mixing the best of vintage, elegant, and playful. Check out these ideas for floral arrangements, centerpieces, and decorations.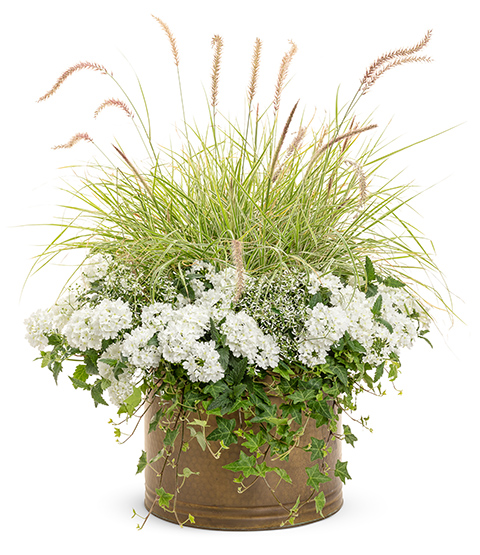 Diamond Frost® Euphorbia
Superbena® Whiteout™ Verbena
Graceful Grasses® 'Sky Rocket' Pennisetum
Patricia® Hedera
A GREENER APPROACH
TO BRIDAL DECOR
Though cut flowers are traditional wedding fare, throwing away so many of them when the party ends is not exactly being nice to the planet. Using live plants for centerpieces and bridal decor is a great alternative. It leaves less waste and less of a footprint after the celebration is over. With some clever planning, the live plants can also make great mementos for the guests to take home, leaving them with a lasting memory of the festivities.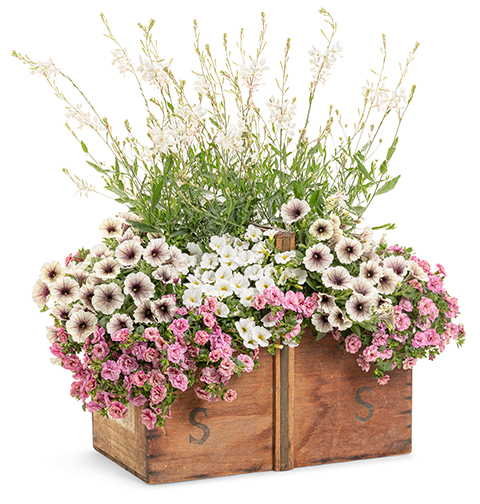 Superbells® Double Orchid Calibrachoa
Superbells® White Calibrachoa
Stratosphere® White Gaura
Supertunia® Latte™ Petunia
SHOW YOUR ECLECTIC STYLE
After the ceremony, it's time to let loose and celebrate. The space outside the reception area provides an awesome chance to show off your and your partner's personalities. It can be a playful assortment of found objects, hand-painted signs, and funky planters bursting with plants and flowers that, using statement colors like white and pink, can unify the whole look to make a truly inviting display to wow your guests. Check out the plants we used for inspiration.
THE PLANT SAAVY COCKTAIL BAR
You know what would make that post-ceremony cucumber gimlet even better? A few fresh basil leaves picked right there on the spot. With a few herb and berry plants such as Amazel™ Basil and Berried Treasure® Strawberry, a run of the mill minibar can be transformed into a lush mixologist laboratory. The plants you choose can be the inspiration for some truly delicious themed cocktails, letting friends and family celebrate your union in high style without having to dish out the cash like Gatsby. Cheers!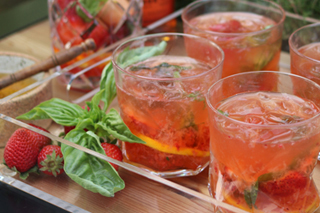 HAPPY HOUR GARDEN
Grow your own happy hour garden filled with herbs, berries, and veggies, and get inspired with some cool food and drink recipes.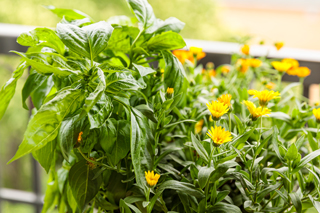 PROVEN HARVEST™
Explore an array of veggies, herbs, and berries whose outstanding performance and flavor truly makes them Proven Winners®.
A FEAST FOR THE SENSES
After cocktail hour comes the long awaited chance to break bread, chat with your table mates, and hear toasts from rowdy family members and friends. And the more vibrant the dinner table looks, the more exciting the festivities will be. Below we'll show you how to create a living table centerpiece that's sure to impress. The table is also a great place to give guests mementos from your special day. Check out the DIY below to see how you can make beautiful concrete planters that double as place markers for the guests and make amazing take-home gifts as well.

HOW TO MAKE A MOSS WALL BACKDROP
A custom backdrop is a great way to personalize a rented venue. The backdrop can add drama to your dessert table, or act as a photo wall for those Instagrammable moments. Check out our video to see a time-lapse of a moss wall being constructed. All you need to get started is a 4×8′ piece of plywood, some green spray paint, a hot glue gun, some sheet moss, and about an hour of time.
MATERIALS
• 4×8′ Plywood Board
• Green Spray Paint
• Hot Glue Gun
• Decorative Sheet Moss
PLANTS OVER THE BUFFET
Superbells® Double Orchid Calibrachoa
Berried Treasure® Red Strawberry
Karalee® Petite Pink Gaura
Patricia™ Hedera
Supertunia® Latte™ Petunia
Whirlwind® Pink Scaevola
PLANTS IN DRAWER PLANTERS
Superbells® Double Orchid Calibrachoa
Glacier Hedera
Supertunia® Latte™ Petunia
CAKE TABLE PLANT LIST