As a garden designer and popular lecturer, I get feedback from thousands – no, tens of thousands – of gardeners who crave high-impact, low-maintenance gardens. They want 'drop-dead' gorgeous plants that also benefit pollinators without requiring a lot of water, fertilizer or handholding….and that don't drop dead after being planted.
Here are some of my 'Beauty and Brawn' perennial picks:
These drought tolerant, long blooming party girls will have your customers doing the happy dance. Flashy magenta or pink flowers cover lovely blue foliage in early summer and again in fall. They work well in the landscape as well as containers. These single-petaled standouts don't flop open, looking unsightly, like some other Dianthus. Increased heat tolerance and deer resistance are two more of these no-fuss winners 'party hats'.
Move aside 'Walker's Low'. Gardeners are fed up with your messy, sprawling habit. 'Cat's Meow' and 'Purrsian Blue' are compact, tidy selections that deliver months of bloom, to the delight of bees, birds and butterflies. These 'kitties' are highly heat and drought tolerant, plus 'less is best' concerning fertilizer. Pair them with orange Hemerocallis RAINBOW RHYTHM 'Primal Scream' and Coreopsis in the SIZZLE & SPICE series, and then get out of the way of stampeding customers.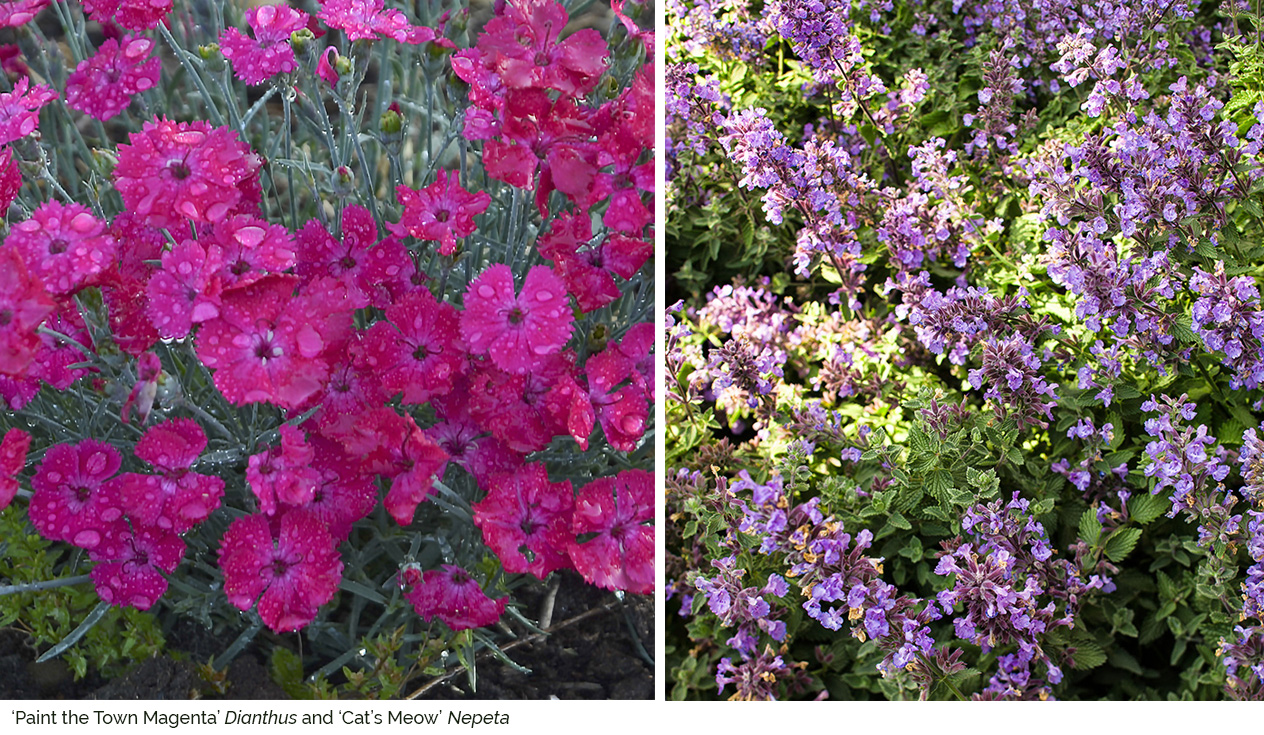 Who doesn't like Hosta? Wait, let me restate that. Who doesn't like Hosta with large, dazzling heart-shaped, highly textured leaves painted frosty blue, apple-green and creamy white? The answer? Slugs, snails and deer don't appreciate the thicker substance foliage or the blue waxy coating. Top this eye-candy with white flowers that attract hummingbirds and you've got a customer thriller.
This Russian Sage has looks and swagger. 'Denim 'n Lace' is a striking fashion statement compared to P. atriplicifolia and other leggy, floppy, anemic-flowering varieties. This shorter, compact, stiff stemmed beauty covers itself with billowy, sky-blue flowers on amethyst calyxes. Like other Perovskia, it is highly heat and drought tolerant; attractive to pollinators and deer resistant. It is superb in containers as well as the landscape.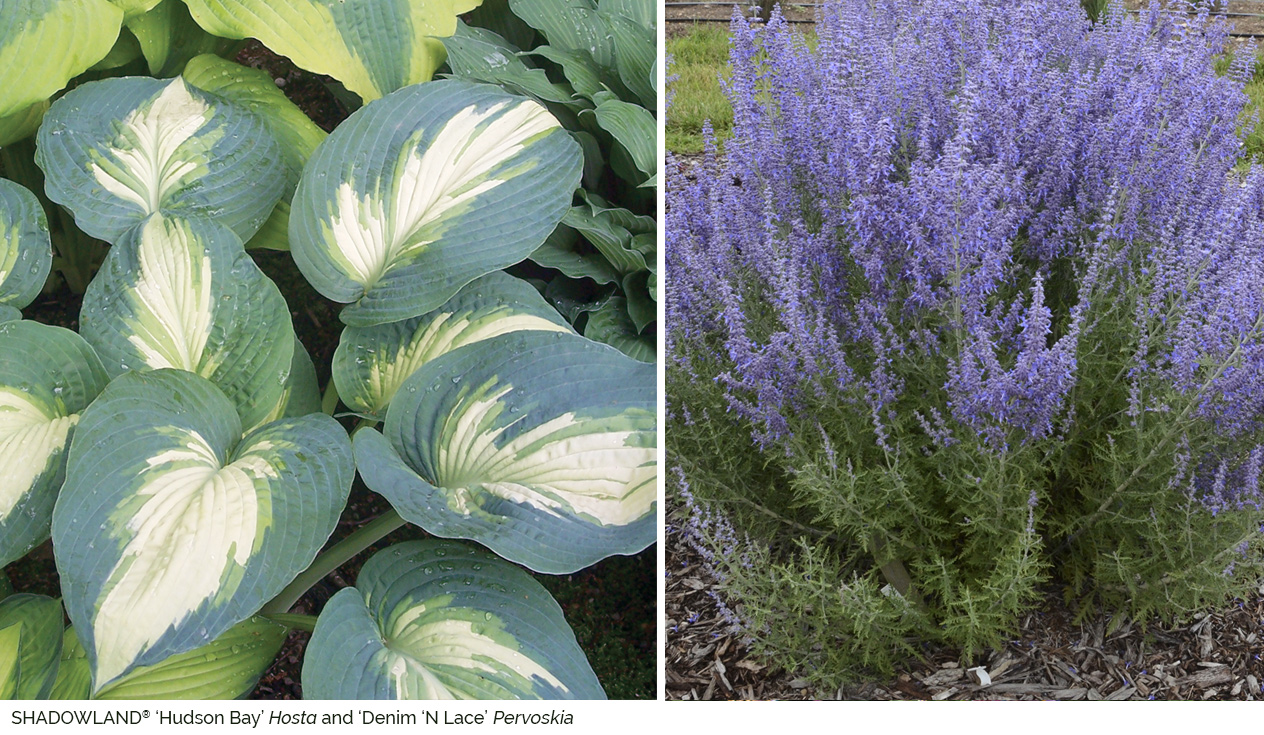 Star is the key word! This remarkable baby's breath, along with a slightly taller cultivar, 'Summer Sparkles', blow away the competition. Lovely grey-green foliage is blanketed by pristine white, airy flowers month after month with zero deadheading. Highly drought tolerant and deer resistant add to these noteworthy traits. Pair 'Festival Star' and 'Summer Sparkles' with easy-care Oso Easy shrub roses and your customers have a long-lived stunning vase right in their garden.
'Maestro' puts 'Autumn Joy' to shame. 'Maestro' serves up luxurious blue-green leaves and bright red-purple, stiff stems. The grand finale is clustered red buds that unfold in late summer to rich mauve pink flowers that are swarmed by pollinators. 'Maestro' turns heads starting in spring! Not so 'Autumn Joy'. Pair 'Maestro' with native grass Panicum virgatum PRAIRE WINDS 'Cheyenne Sky', and your customers have four seasons of non-stop drama in the landscape.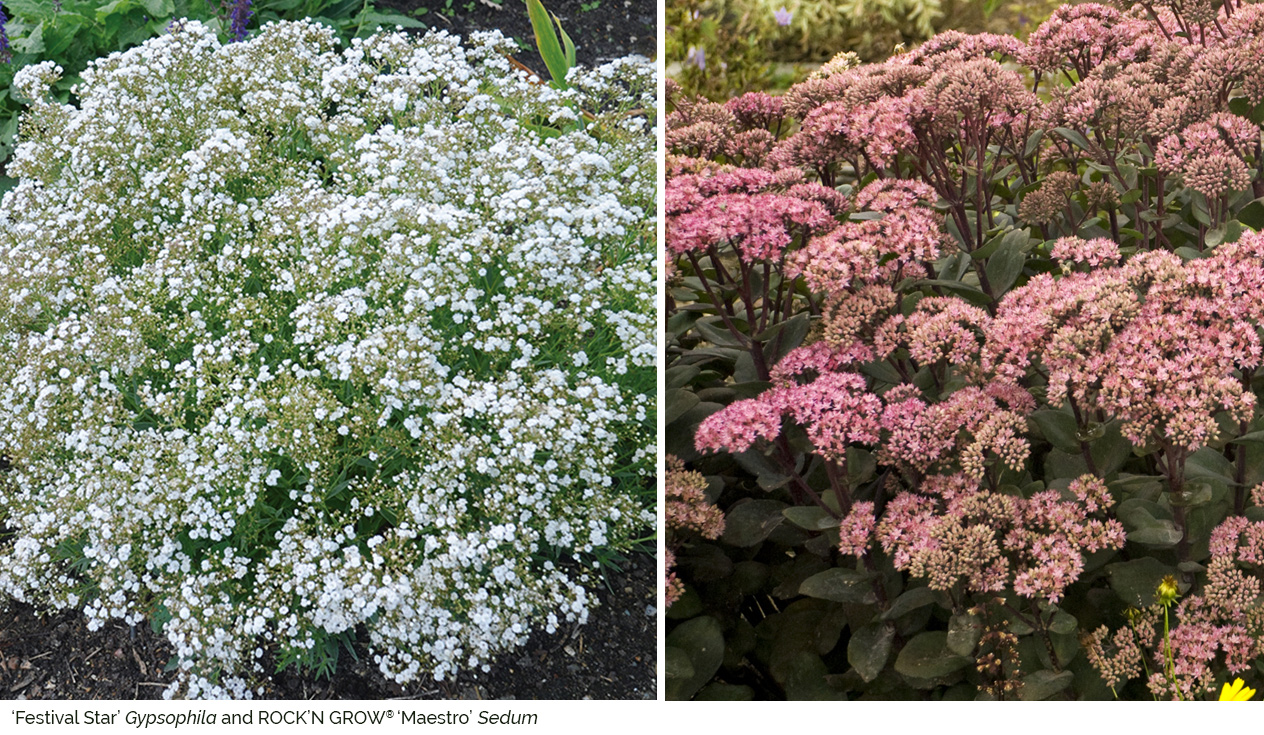 Kerry Ann Mendez is an award-winning speaker, garden design and author based in Kennebunk, ME. She has written three top-selling gardening books. Mendez recently launched national gardening Webinars. These interactive webinars focus on high-impact, low-maintenance, sustainable flower gardening and landscaping. Gardeners of all ages and abilities, both professional and garden hobbyists, have found them extremely helpful. The next Webinar, Inspired Garden Lessons Learned from Magnificent Gardens in England, Canada and the United States is scheduled for January 26.